| Story Time |
I first photographed Tyson's sad face in the pound back in 2011 and meeting this boy has put me on the path to many new friendships and partnerships. Rescue dogs have carried me to where I am today, because I didn't wake up one morning and decide I would become a pet photographer. As I sat in front of my computer screen one day in 2012, with my girl by my side, looking at the hundreds of faces I photographed in that pound – more than I care to remember – I decided to book my first photography appointment at my studio back in Ongar and Wet Nose came to be.
When Tyson found his happy ever after and put his happy head in front of my camera, he quickly became my poster boy, because he really is all that Wet Nose represents. The idea that every adoptable pet should be represented with a positive professional photograph is born from the sadness and frustration that so many lives are unnecessarily destroyed each year.
Tyson's Mom tagged me in a post on the anniversary of this image the other night.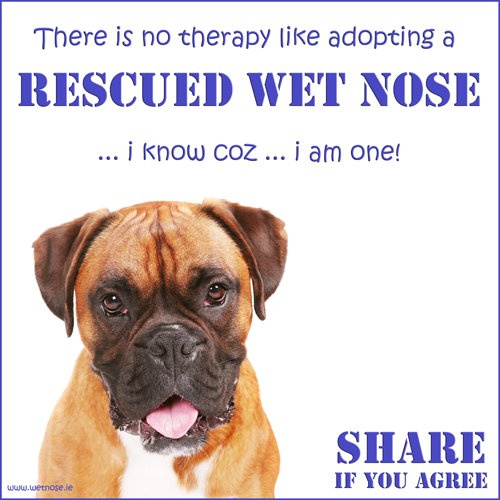 I had just picked up a book called "This is Marketing" by Seth Godin at Chapters book store. (I knew I was buying it when I took a peek at page one).
"It's time to do something else with marketing", he writes. "To make things better. To cause a change you'd like to see in the world. To grow your project, sure, but mostly to serve the people you care about. The answer to just about every question about work is really the question, who can you help?"
Right everyone? Let's get the Rescued project going again. Please share your stories with me and let's make some appointments for our special Wet Noses.