Summer & Grief.
It was a brilliant summer of 2018. Everyone agrees. One that we'll never forget.
I sometimes struggle on those sunny mornings though. Especially sunny Saturday mornings.
I feel as though it was the Summer that took my girl, Holly. For me those August blue skies hold an anniversary that is blindly commonplace to us all and I just have no choice in the matter. As only someone who has lost a pet they loved deeply knows, sunny days in Ireland will never be the same for me. Since that terrible morning when I knew my girl was failing, regardless of what I'm doing, I find myself reliving it in some way.
You might think that the difficult days are the big days. The Birthdays, the Gotcha days or the Christmas days. But the hard truth is that's not how it works. Other quiet and frequent anniversaries are far more crushing. The people in my life, even the ones who are closest to me and care greatly are usually unaware of just how much I miss and overlook a recurring sadness in the less than obvious days.
Everything about oncoming Summer is a potential surprise reminder. Walking in the local park where I find the row of blossoms and daffodils. Bird song. Butterflies and bumble bees out of nowhere. The first taste of coffee on my lips in the morning as I sit with the back door open. Acorns and the smell of woodland. Splashing waves at the beach, ripples in the sand that are for digging, and grasses, long grasses – her favourite to stroll through.
My heart has wanted to mark a special occasion for some time now. A happy day. A favourite even. Because my girl was a goofy and very fun dog. And so it came to be. It was probably a rather uneventful work day for Graham Cashell a couple of weeks back, but it wasn't in my core when he messaged me to let me know that my framed portrait of Holly was ready to collect.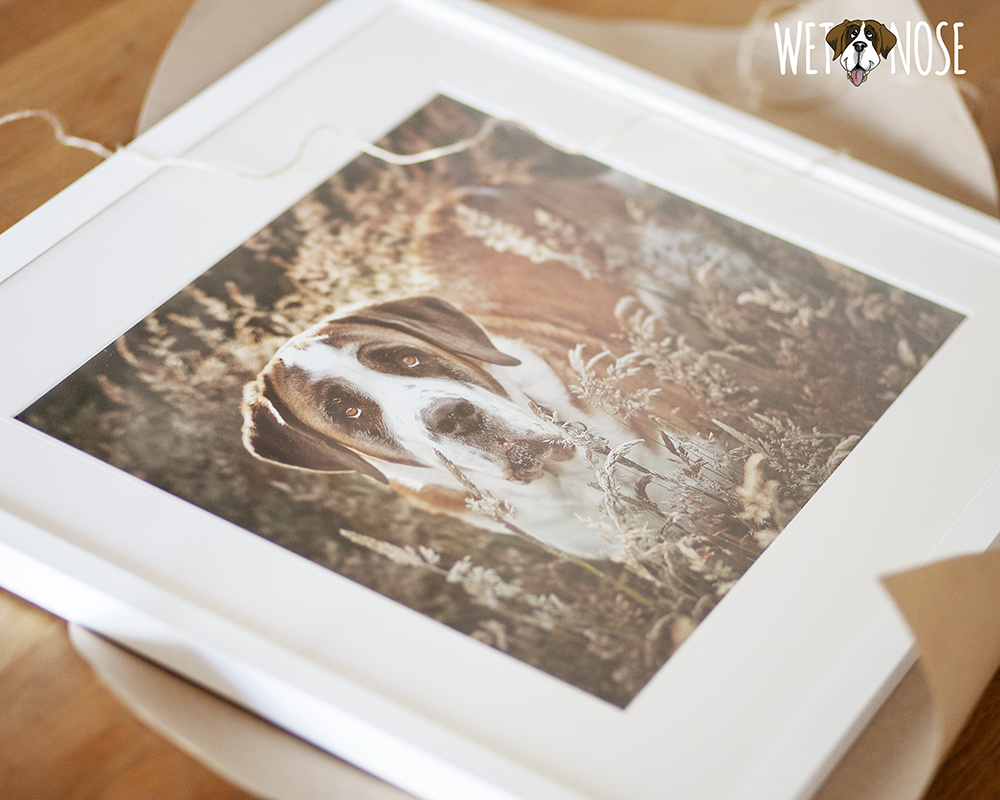 I like sometimes to meet with other photographers that I admire, but there are some types of synchronistic connections we make which prove that we don't meet anyone by coincidence, and these meetings, they are so good. Not only it seems is Graham an award winning artist, a well respected speaker and judge, he's also (as my luck would have it) a printmaker and an all round good individual who is obviously extraordinarily busy, but also very excited about his latest prints that he brought along to show us at the local camera club.
My heart started to beat a hundred miles a minute when I saw every detail of a favourite Summers evening with my girl come to life on premium platine paper. This is the finest quality. And the colour is warm and wonderful. In general, I hesitate to give recommendations on specific papers and leave that to the professional printers, because there is so much I don't understand about it and there's also personal taste to take into account, but I wish everyone would consider at least giving this a try, for so many reasons. Join me and let's get outside!
I finally understand what it means to receive a framed portrait of the one we love doing the thing they love most. The whole process reminds me why I don't go straight to digital files. Lately I have felt in a somewhat lonely place, which in some ways is no great surprise, because Holly was specific to me. I'll probably never have an uninterrupted sunny Saturday morning in Ireland ever again. But now the weather can bring sunshine or rain and I'll still be sipping a coffee to a happy moment in time.
Thank you again, Graham.